On cutting ties... and hair.
I decided to break up with my hair stylist. I haven't told her yet. Honestly I probably never will. Not outright anyhow. I think she would be appalled to learn that I'm cutting my own hair, and I'm just not interested in having that conversation with her.
This was not a rash or emotional decision. It was measured, many months in the making. My rationale built up slowly, slowly, and then suddenly tipped over the edge of no return. And as I free fall towards a future of at-home haircuts, a new special interest has been unlocked: my hair.
Let me give some background here. If you're reading this, you likely know that my hair is one of my trademarks. My curls are by far my most complimented physical trait. Growing up, my parents never mastered my hair, seeing as my mother had been straightening her loose Italian waves for decades and my father never learned the same Arab haircare skills as his 8 sisters. So I had to learn my hair myself.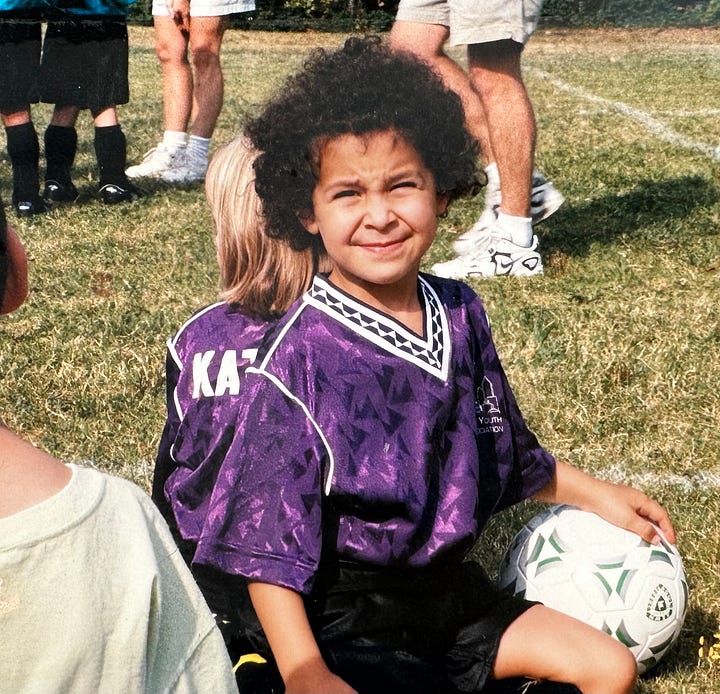 For several years, as a young teen, I would apply product to my wet hair and meticulously twist each corkscrew curl. Not a hair out of place, I disciplined my mane into precise, frizz-free, compact curls. This required showering every morning to style my hair anew each day. My hair got me a lot of attention. People frequently asked to "boing" my curls, pulling them down then releasing them to spring back up. One boy who sat behind me in 7th grade history class found great amusement threading his pencil up each of my curls everyday. When my friends wanted to see what my hair looked like straight, it became a sleepover activity. That is, until they got tired and bored halfway through straightening my hair, unaccustomed to the curly hair experience, and left me to finish the job myself.
Later on in high school, I abandoned my meticulous corkscrews for a less manicured look, allowing my hair to dry without manipulating my curls. "I like the natural look," one of my guy friends told me soon after I started trialling the look. "Natural," I thought… I'd never really heard that word used in relation to hair. After all, I had never had my hair cut or styled by anyone who wasn't white.
I continued to trial new products and techniques with my hair, drawing from Ouidad and the Curly Girl Handbook that my mom bought for me as a tween. By the end of high school, my hair was very long, well past my shoulders while curly and nearly to my butt when pulled straight. I wore my hair at this length with minimal upkeep for many years. I would go to the hairdresser a few times per year to get my dead ends trimmed and to have some warm gold highlights applied. "It looks better, your curls look more defined when you have different tones in your hair," my mom told me. She was right. She is still right.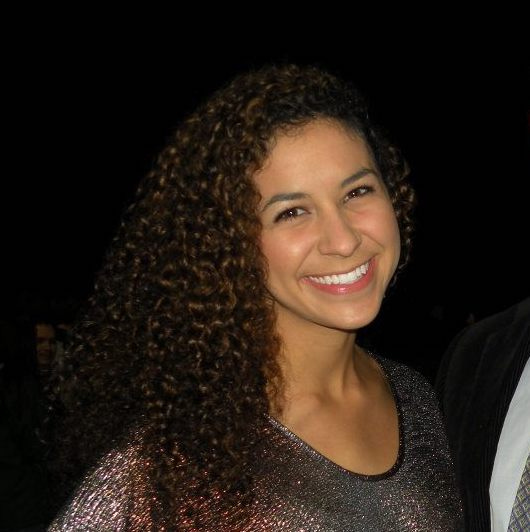 By the time I turned 24, I was itching for change. I had convinced myself for so long that I didn't have many options for hairstyles with my 3b curls. I would scour the internet for hours, searching for reference photos to show my stylist but I could never find more than a handful of images that featured people with my texture hair. This kept me from venturing outside of my comfort zone for years. But somewhere amongst the Sierra Nevada mountains, I found the courage to hack off my hair, with or without a reference photo.
For the first time in my life I sought out a curly hair specialist (albeit a blond white woman) and it was a total game changer. I learned about dry cuts and cutting edge curly hair products. We started by cutting my hair just above shoulder length, with curly bangs. Over the year that followed, we cut it shorter and shorter until I had just a few inches of hair, mostly on top of my head.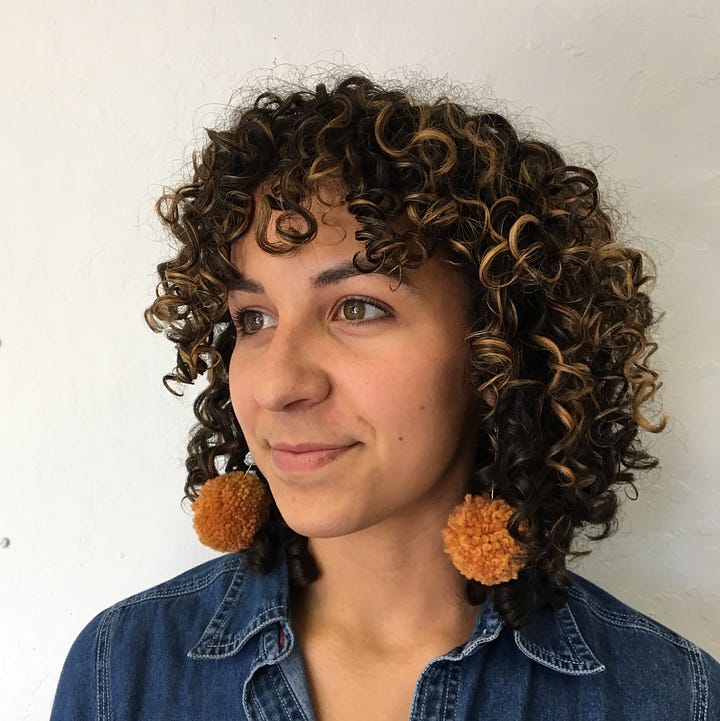 When I moved back to Atlanta, I started seeing my (now ex) hairstylist. Together we navigated finessing my hairstyle, first with a bit of a faux hawk shape, then with more of a fade all around. But, she admitted, she had never cut anyone's hair like this. She even admitted on multiple occasions that she wasn't sure about my ideas or how they would turn out. But every time she was pleasantly surprised. She was learning with me. Or perhaps, from me.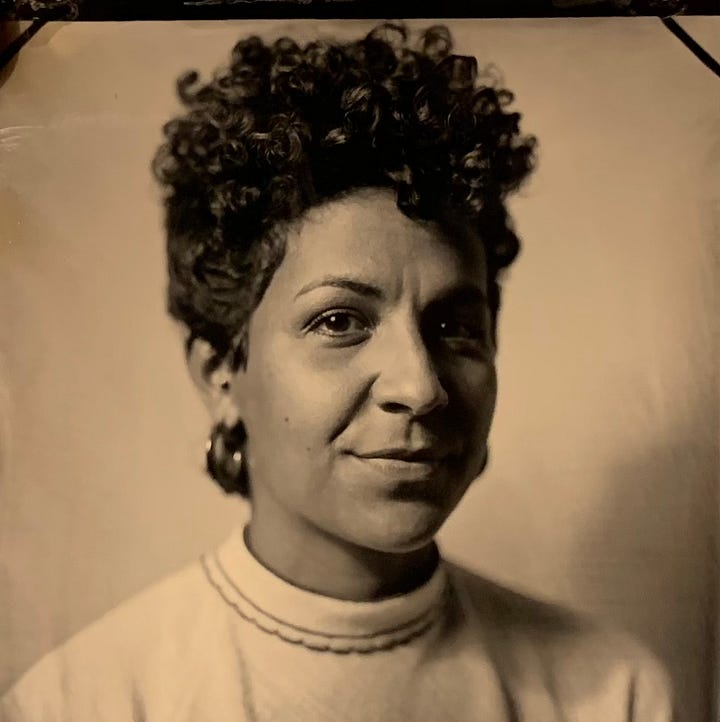 Eventually, I started to question if I've been wasting time (and money) letting someone else tell me what was best for my hair. Eventually, I realized that I was instructing her how to cut my hair, down to which guard size, where to start with the clippers, and which curls needed to be snipped. Wait… I thought the last time I was sitting in her chair, I can do this myself! 
Don't get me wrong— hair dressers have skills and expertise that I will never have. They have dedicated time to learning and perfecting their craft and that is undeniable. I respect that. But we are all working with limited information. In the vast wasteland of information overload, we're constantly sifting through what's reliable information, what's misinformation, what's outdated, what's evidence-based, what's rooted in tradition, what's applicable to our own personal experiences…. It is simply impossible to collapse all of this nuance into universalizable methods, conclusions, or philosophies. This means that even when someone is an expert in their craft, we must consider too the ways in which we are experts in our own experience. A hairdresser's education and expertise is valuable information, but my daily experience with my hair is equally valuable information. We must consider how what we know for ourselves interacts with what "professionals" tell us. We must recalibrate our scales of informational legitimacy. We must consider the ways in which perceived power and authority keep us stagnant and incurious.
It's amusing and endearing to me how as I age, I increasingly learn just how little I actually know about the world, but even more amusing to me is learning just how little everyone else knows too. I've always questioned authority in other people to some degree, starting with my father's patriarchal tendencies. But never in my life have I been so skeptical of so-called "experts." Never in my life have I unplugged so extensively from the matrix as I am today, entirely averse to being a sheep. Never in my life have I trusted myself and my own analyses so faithfully.
So anyways, back to my hair. I took a hair porosity quiz! Turns out that maybe it's helpful to know more than just what curl pattern you have. I'm going back to the drawing board to test out new products. I'm researching what kinds of oils and techniques Arab women use to care for their hair. I'm connecting with my roots, literally. And it's really liberating.
I know there is inherent privilege in this whole narrative. I can see the Onion headline now: "Trust fund orphan abandons their $100 haircuts to live like the proletariat!" I don't take this lightly. But what I'm getting at, ultimately, is that I'm turning off autopilot. The systems that keep us and ours oppressed are the same systems that keep those of us with class privilege intertwined with capitalism, spending money thoughtlessly when we could be bartering and trading or doing it ourselves. Consider this breakup with my hairdresser another step towards prefiguring the future I want for us. Consider this breakup the start of something new, and I'm not just talking at home haircuts. I'm thinking bigger…
May your new year, whenever you celebrate, be filled with embodied experiences and trust in yourself.
MUM'S THE WORD is a reader-supported publication. To receive new posts and support my work, consider becoming a free or paid subscriber.